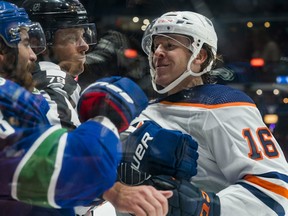 Article content
Another item was checked off Ken Holland's "to-do" list on Saturday morning with the announcement that the Edmonton Oilers have signed a restricted free agent forward Tyler Benson.
Article content
With arbitration-eligible RFAs Jesse Puljujarvi and Kailer Yamamoto signed in the last fortnight, Holland's next priorities were their fellow RFAs Ryan McLeod and Benson, with the latter being the more straightforward case.
Benson, 24, was drafted by the Oilers in the second round of the 2016 NHL Draft. He turned pro in 2018 and played 3 years under Jay Woodcroft in Bakersfield, making the AHL All-Rookie team in 2018-19 and scoring the series-winning goal when the Condors won the Pacific Division playoff crown in 2021.
His ELC recently expired, the Edmonton native was signed to a 1-year extension at the NHL minimum rate of $750,000 last season and was widely expected to make the transition to the NHL. However, he became locked in an extended battle for the 4LW position with summer signing Brendan Perlini with neither man able to find sufficient traction. Then Evander Kane arrived in Edmonton and the depth chart at left wing changed for the duration.
Article content
A skilled and clever winger whose greatest strength is playmaking, Benson's offense was suppressed by a number of factors including limited appearances (29 GP), limited ice time within those games (8:33 TOTAL), and limited opportunities to play with high-skilled teammates (his most common linemate was Colton Sceviour). But it's fair to say limitations were exposed within his own game, with both his skating and his shot charitably described as "average". He struggled to break through offensively, scoring just 1-1-2 on the season.
Benson made a laudable effort to redefine his game, playing an agitating style and frequently getting in the faces of opponents (see the feature image up top for a pretty typical example).
Article content
Once Woodcroft arrived in the NHL many including this writer thought that would mean an increased opportunity for Benson. He did get 10 games in the first month of the new regime but ice time remained limited. Eventually as the squad got healthier he got caught up in the numbers game and was waived in mid-March, with no takers.
Then to add insult to injury, a couple of weeks later the club gave Benson's #16 to trade deadline acquisition Derick Brassard. In the organization's eyes, the younger man was apparently out of sight, out of mind.
He managed to score 4-8-12 in 18 games in Bako, but got hurt in the first playoff game to bring a disappointing season to an early end.
The club did however see fit to issue him (and not Perlini) a qualifying offer, and it seemed a matter of time before an extension was achieved. It contains exactly zero surprises: 1 year, 2-way deal at NHL minimum with a decent AHL component. PuckPedia provides the details:
Article content
A smart move by the player to take the lower amount, indeed the lowest amount under the CBA, which only improves his chances of making it back to the big leagues. His $750,000 cap hit stands in stark contrast to, for example, Warren Foegele, a fellow left winger whose cap hit is $2.75 million. If the Oilers choose to move Foegele to make cap space, a distinct possibility, they are still going to need to replace him in the line-up and/or on the roster. To do so with Tyler Benson would result in a cap savings of a full $2 million.
I for one haven't written him off, even as his development has proven to be slower than hoped. At least he will help the farm team, and his upside remains intriguing. A good depth signing by the organization.
Whether there is an NHL player in there waiting to bust out, remains to be seen.
Recently at the Cult of Hockey
STAPLES: Tragic choice — Oil fans should prepare for a new kind of pain
McCURDY: With Yamamoto signing, Oilers achieve unusual milestone
STAPLES: Yamamoto signs 2-year bridge deal with Oilers
McCURDY: Bouchard graduates with honors
STAPLES: Coming to grips with Tyson Barrie's value
McCURDY: Ryan McLeod is Oilers' new poster boy for developing from within
LEAVINS: Ken Holland's options during the Dog Days of August — 9 Things