Serge Ibaka is regarded as one of the best shot-blockers in the NBA. The Congolese-Spanish player has fashioned a career out of elite shot-blocking, effective scoring, and being a strong leader in the locker room. While the Serge Protector's swatting ability makes him a terrifying presence in the paint, his musical avatar is generating quite a stir.
Ibaka's artistic side has surely been the talk of the town, from basketball to having his own cooking show, and now the enormous shift to music. His latest song 'Champion', featuring French rapper Ninho, has certainly made the waves, topping 35 million Spotify streams.
ADVERTISEMENT
Article continues below this ad
He overtook Damian Lillard, aka Dame Dolla's'Money Ball'in the music charts, setting a new record for an active NBA player. Lillard has always been regarded as a must-see superstar in the league. The star guard also found tremendous success in his transition to music in 2015, with multiple hits. Nonetheless, Dame Time appears to be running out as a new artist has arrived.
'Champion'was first launched in 2021. Ibaka's record-breaking single is one of the standouts of his new album'Art'. which was released this week.
Ibaka, a former NBA champion with the Toronto Raptors, now adds another milestone to his resume. As a member of the Milwaukee Bucks, who are a strong contender for the NBA title next season, he is arguably on course to add another trophy to his collection. Lillard, on the other hand, will be aiming to bounce back after an injury-plagued season.
Meanwhile, the Portland Trail Blazers star guard recently put pen to a two-year extension through the 2026-27 season. The deal is believed to be worth around $ 225 million.
Serge Ibaka has had a pretty successful NBA career
Serge Ibaka brought his talents to the league as the 24th pick in the 2008 NBA draft. He was selected by the Seattle SuperSonics, a team that relocated to Oklahoma City six days after the draft. The big man formed a young formidable trio with Kevin Durant and Russell Westbrook.
Together, they even made it to the 2012 NBA Finals, only to get topped by the Miami Heat in five games. Nonetheless, Ibaka continued to add more weaponry to his game and terrorize opposing players with his elite shot-blocking. He added mid-range and three-point shooting to his arsenal, making him a valued power forward in the league.
ADVERTISEMENT
Article continues below this ad
DIVE DEEPER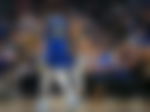 Following unsuccessful stints with the Oklahoma City Thunder and the Orlando Magic, he signed with the Toronto Raptors in 2017. And it was here that his dream of becoming an NBA champion was accomplished.
WATCH THIS STORY: How many 40-point games did Michael Jordan have?
ADVERTISEMENT
Article continues below this ad
The Toronto Raptors won the NBA championship in 2019, overcoming Stephen Curry's Golden State Warriors in six games. He was instrumental in his team's run to the NBA championship, owing to his excellent shot-blocking and effective scoring.
Ibaka remains a valuable role player and seasoned presence in the league today.